Home /

Customized & Engineering Services
Customized & Engineering Services
Customise Engineering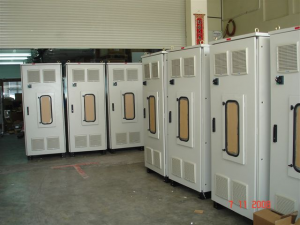 We design and build a complete range of customized services and innovative solutions that will satisfy your requirements. Click on Gallery to view.
We offer you confidence and tranquility for your installation and also a continue results improvement.
We have the expertise in doing project management & implementation for variable speed drive system.
Recent portfolio includes Ulu Pandan Newater Project, Siltronic Wafer Wab Plant Project, Intel Micron Flash NAND, STMicroelectronic Extension Project and etc.
We are able to provide you customise solutions for control panel, motor control centre (MCC) panel, and have involved in many projects for the past 10 years.
Testing & Commissioning
We are specialised in performing testing & commissioning for variable speed drives and soft-starter based on application type, e.g. fan & pump application, hoisting and etc.
Variable speed drives and soft-starter need to be commissioned properly for optimum performance and operation. We are able to give you good and quality T&C to protect your investment for variable speed drives and soft-starter.